---
Sending Your Silver by Mail:
The following are our instructions, policies and
suggestions we have for sending in your package to us:
Shipping Instructions:
Please Address Package to:

SQI Inc.
1350 West Bay Drive
Largo, FL 33770
Att: Greg Arbutine

727-581-6827

We advise to abbreviate our company name by not using the word "Silver" as to not call
attention to the package containing precious metals to avoid theft.

Boxing, Shipping Carrier & Insurance:
We suggest you use a corrogated cardboard box not an envelope or letter packet to make sure
the package is not damaged or tampered with in the mail.
USPS Priority Mail and FEDEX Ground are the safest and most economical ways to ship.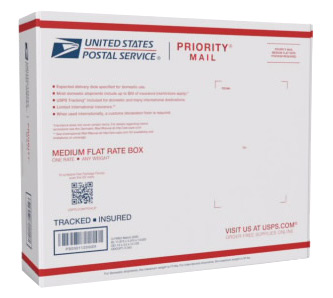 The most popular way we receive incoming packages is a USPS Medium Flat Rate Box
which typcially only costs between $30-$40 depending on where you live.

We suggest you insure for an amount that feels safe enough to cover yourself in the unlikely event of your parcel getting lost in the mail.
If your silverware is stored in a silver chest, we typically do not require the box (unless specified in our negotiatin with you.)
The chests are too bulky and heavy in weight and can be cost prohibitive to mail.
You are welcome to include any felt place setting cloth holders that you no longer need or want.
All shipping expenses are at your own expense.

How to Safely and Securely Wrap:
We suggest you wrap your package well enough so that the items are not loose and rolling around and that there is not an audible rattle.
In example if you have 8 forks you can put them all in a stack together
(please do not tape together or use rubber bands) and then just wrap
up in a group with newspaper, shipping tissue paper, or cloth rolls and then proceed to do the same on the other groups.
Once you have all the items wrapped then place them inside the box with either more newspaper or foam peanuts.

Invoice and Shipping Manifest:
If you have received our printed formal written buy offer through the mail or
if you have received our .pdf buy offer via email that you printed out, then now
please then fill out the pertinent information on the forms and then put the paperwork inside of the package please.

If you only received an email correspondence offer from us then please print this out and put a copy of this in the box,
that will suffice as the invoice. Please just make sure to include your phone number and mailing address.
If you would like for us to email a formal written buy offer which includes a
shipping invoice please email Greg@Silverqueen.com.

If you prefer, you can draft your own custom invoice and mailing manifest by filling out our on-line form letter at:
https://www.silverqueen.com/Info/Mail-in-Silver-Submission-Form

Payment:
Once we receive your package, we will process it usually within 48 hours.
If everything is as it was described and there are no discrepancies we will typically send
a check to you within the same week it was received.
If you visit our store in person you will be paid immediately on the spot.

Condition Expectation:
Our offers based on your silverware being in average used condition
free of monograms, heavy damage or major dings or dents. We still purchase your sterling
silver regardless of conditionor monogramming, but if in fair to poor condition we will likely need to pay lower.
If there are any problems where condition is a factor we will call you or email you.


Background & References:
We've been in business since 1972 and our motto is honesty, integrity and reliability.
We have one store here in Largo, Florida. We are an A+ member of the Better Business Bureau.
We essentially have a sterling reputation and nearly 100% customer satisfaction.



Need and offer on your Silverware & Holloware?
Click on the link below to find out how to contact our buying department and receive an offer on your silverware items:

---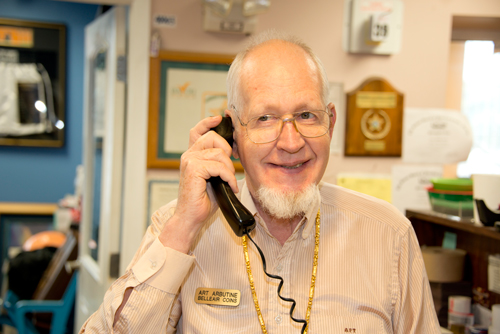 Pictured: Art Arbutine one of the original company founders
Have any questions?
Call us at: 800-262-3134 or 727-581-6827
or email Sales@SilverQueen.com
We also purchase Gold!


A+ Rating
The Better Business Bureau


| | |
| --- | --- |
| We Buy Gold, Jewelry, Diamonds, Watches and More! | We Buy Estate Colletctions of Jewelry, Flatware & More! |
| | |
| --- | --- |
| Have confidence and trust when selling your valuables.! | How can I tell if my gold jewelry is real? |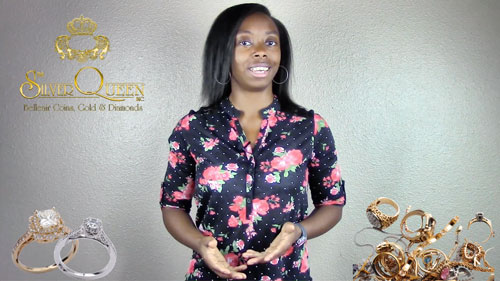 Overview of Silver Queen as seen on TV:



1350 West Bay Drive
Largo, Florida 33770
727-581-6827
Sales@SilverQueen.com


We also purchase Gold!

Please Sell to Us!
Please trust us when selling your valuable sterling flatware, holloware precious metals, coins, numismatics, jewelry, gold, diamonds and more.
We are a family owned business and have been proudly serving customers since 1972.
Our motto is Honesty, Integrity and Reliability. We are also a golden rule dealer.
Please take a chance on us and mail in your items or come see us at our store, either way you will not be disappointed.


Turn Your Old Jewelry into Cash!
Sell to The Silver Queen Today!


The Silver Queen & Belleair Coins Gold & Diamonds
1350 West Bay Drive Largo, FL 33770.

Call Greg Arbutine at 727-581-6827 x4006
Email: Greg@silverqueen.com
Please contact us today to discuss your buying and selling options.
We look forward to doing business with you.

---