We accept Visa, MasterCard, American Express, & Discover credit cards online as well as PAYPAL.
Orders Paid by Wire Transfers and Checks are held until the check has cleared and you must call us to order at 1-800-262-3134.
Gift cards can be redeemed thru our toll free number or in store only, you cannot use gift cards online.
Pricing Policy:
All prices are subject to change. We always strive to make our best effort to provide correct updated pricing on web our site, in our catalogs, and with our in store price stickers. However, due to fluctuating metals prices, or very rare database price discrepancies, or unforseen manufacturers increases, our displayed prices can change. If there are ever any price issues where can not honor a price due to mistake or dramatic market changes, we will notifiy you in advance before processing any order you have with our company.
Product Condition:
Pre-owned estate silverware comes to you, looking like new in unsealed Silver Queen Plastic bags.
New product comes to you in original manufacture packaging.
Engraving Policy:
We engrave:
http://www.silverqueen.com/items/Engraving-and-Monogramming-Services


Buying Policy:
We purchase sterling flatware, silver plated flatware, stainless flatware, china, crystal, collectibles, and more:
http://www.silverqueen.com/selltous


Gift Registry
We offer a full service gift registry for brides, baby, birthdays and more.
http://www.silverqueen.com/union/


Returns & exchange policy:
As a customer of the Silver Queen Inc., you have 10 days upon receipt or delivery of an item to return it or exchange it to receive a 100% full purchase price refund. You will have a form to fill out that is included in your order. Please include this form in the package you return to us. If the item is returned past the 10 day period it may be subject to a 15% re-stock fee at the discretion of our management. If the item is attempted to be returned 90 days or more after the original purchase date, the return will be treated as a re-purchase of merchandise and the purchase price will be a mutually agreed/negotiated upon price between both parties. We can sometimes issue a 100% full purchase price store credit in lieu of a return that is way past its original return date - this is strictly at the sole discretion of our management. We always strive to be fair minded and reasonable when regarding all returns.

If you ordered silverware or dinnerware that is not up to your satisfaction because it does not match your current set, then please send it back for an exchange or refund.
All new merchandise must be returned in original condition with all boxes and in original unopened plastic. Any new merchandise not returned in original condition and packaging may be subject to a 15% re-stocking fee.

Refund will be for full purchase price of items returned not including shipping and handling charges.

If you receive something other than was originally ordered or a mistake was made by our staff. Please send back the shipment and we will gladly exchange or refund it. We will refund or credit you your reasonable freight and handling charges in returning the items to us, please indicate to us what these were for proper credit.

Privacy Policy:
We store your Name, Address, e-mail address, and other personal information as provided by you when ordering on our site, registering for a want list or bridal registry.
We do not sell or trade your personal information.
Every reasonable precaution is taken to protect your information.
Your information can be used by The Silver Queen, Inc. and its affiliated company Belleair Coins Gold & Diamonds. Also in order to process your order this information is provided to our credit card processing companies and shipping carriers.
Shipping Policy:
We do not ship COD.

We Ship out packages from the following carriers:
United States Postal Service, UPS

Some items require additional shipping cost due to the size, weight or number of packages then the website told you
if this happens we will notify you before billing your credit card and shipping the order.
Shipping Charges:
Orders shipping within the United States
Charges based on amount of order: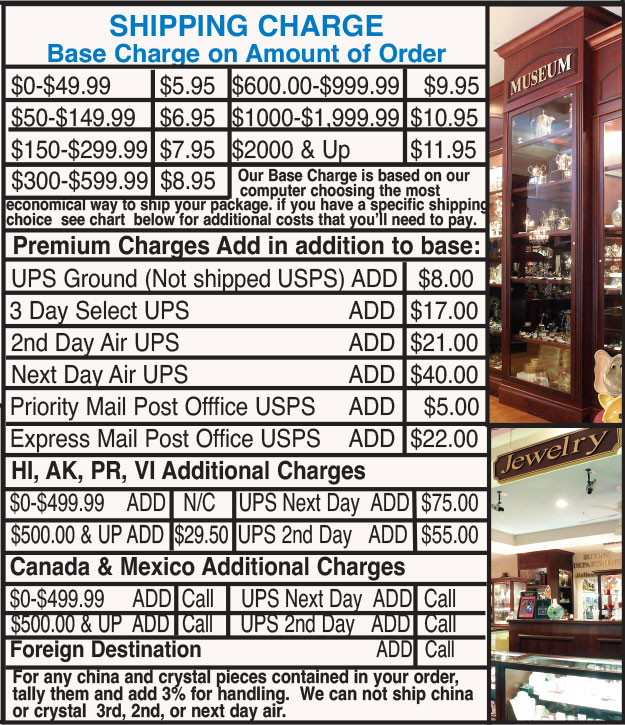 Order shipping all other destinations around the world.
You will be contacted with the shipping cost, brokerage and customs fees, by email before we ship the order to you.
Fraud Verification Policies on items being shipped:
If you place an order with us that is being sent to an alternate address other than the cardholder's verfied address on file with the card holders issuing bank, your order might be subjected to additional scrutiny by our fraud department and could be delayed - we will notifiy you if this is the case.

The following instances are especially suspicious and will automatically trigger your order to be placed under a higher level of fraud detection:
• Your order is for Next Day Air to California, Miami, or New York
• Your order is shipping to Canada or a foreign country and the value exceeds $250.00.
• Your order is being shipped to an alternate address other than the cardholder's verifiable address and the order is $250 or higher.
• Your order is shipping to a foreign country and you have selected an alternate address other than the card holder's address
• Your order is over $500 and is shipping Next Day Air or 2nd Day Air.
• Your order is over $1000 and we google your address and it appears to look like an industrial area with a large semi-truck pulled up to a docking bay.
• You've placed an order and what you've ordered makes no sense and is too random and appears to be suspicious in nature.
• You've placed an order over the phone and have it charged to your credit card telling us that it will be shipped but then decide to have it picked up locally and not shipped to the card holder's address.
The credit card companies don't do much protecting of vendors anymore and we have been forced to take these above pre-cautions in order to insure that we are not sending out merchandise to scammers. We apologize to you in advance if you are a customer that we contact and have to inconvenience you for a little bit more of your time in order to verify that you are a legitimate customer and not someone engaged in fraud.
Email Policy:
Here is how we collect email addresses on our website:
• When you Join our Catalog & Customized Pattern List.
• When you purchase from us we obtain your address
• When you enter your information on our online chat system, it is used to send you a transcript of the chat, it is not used in our marketing email lists.
How to unsubscribe from our outbound pattern and specials email lists:
• To have your email removed from our system visit our easy form at http://www.silverqueen.com/remove/
• If you Mark Message as Spam from the following ISP's Hotmail, AOL, Yahoo, and a few others and we get notified of this we automatically remove you from our outbound email list
• If you order from us you will still receive the order and shipping status emails from us and our shipping carriers

We do provide your email address to our shipping providers for them to be able to email you the status of your shipment from us.
PCI Compliance:
We are fully PCI compliant. We can not go into all the fine details here on-line as it would only serve as a general blue print to potential thieves or hackers, but rest assured your data is secure at The Silver Queen Inc. and always will be. We've never had a data breach of any kind since our store has opened its doors in 1972. We plan to continue to plan to spend lots of money, time and effort annually on cyber security in protecting our customers from any potential credit card or identity theft.
Our Contact Information:
Silver Queen, Inc.
1350 West Bay Drive
Largo, FL 33770
Phone: 1-800-262-3134 Fax: 727-581-6827
sales@silverqueen.com