How to clean your sterling silver and silver plated pieces:
Can you put sterling flatware in the dishwasher?

Silverware may be washed in the dishwasher but hand washing is the preferred method. The patina on fine silver is enhanced by the rubbing that occurs when washing and drying by hand. Hollow handles may be loosened with exposure to heat and detergent in the dishwasher, if you do wash your sterling try to leave the knives out and wash those by hand.
(Note from the Silver Queen: The newer silverware is being made with glue that will withstand the heat. Also when you use your dishwasher, do not economy dry. Use only your hot dry. Be sure to wait until your dishwasher is cool before removing your fine china and crystal.)
New sterling silverware sometimes gets brown spots after washing in the dishwasher. Sterling is 92.5% silver and 7.5% other alloys including copper for greater durability. In automatic dishwashing, a reaction can occur between water droplets and the small portion of copper at the surface to cause brown spots on some pieces. After the silverware has been washed several times, the copper on the surface is gone and the surface is pure silver. Avoid such spotting on silverware by washing and drying new silverware by hand for the first If you want to use the dishwasher, follow these precautions: Use the automatic rinse dispenser feature of a dishwasher. The rinse agent lowers the surface tension of the rinse water so it sheets off the surfaces and droplets don't form. Or use a rinse agent in solid form that hangs on the dishwasher rack, if your dishwasher does not have an automatic rinse dispenser.
Remove new silverware from the dishwasher immediately after the last rinse cycle and towel dry for the first few times.

How do I clean my Sterling Flatware?
Most of the time you will want to use a gentle rub or silver polish to keep your sterling shiny. For a lightly tarnished piece we recommend a Hagerty's Silver Dusting Cloth item # 1821509. For something darker we recommend using Hagerty's Silversmith's Polish item #1811510 or Hagerty's Silver Foam item #1821511 We don't advise using silver dips as they are diluted acid and have a tendency of taking off a bit of the silver along with the tarnish.
If your silverware is extremely tarnished, we have a product called Hagerty 100, item #1821527. Hagerty 100 will handle your toughest polishing jobs for all metals. It quickly and easily removes years of tarnish, dirt, corrosion, grease, lime and water stains. It protects metals with 3 tarnish and corrosion inhibitors.
https://www.silverqueen.com/items/Polishing-Products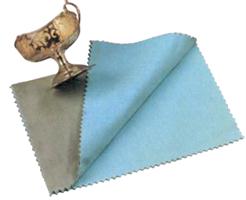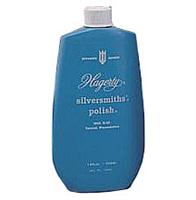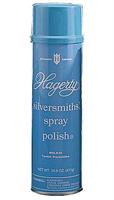 What is the best way to clean Silver Tea Sets, Goblets and other fine sterling holloware?

If you are cleaning silver hollow ware you may use Silver Foam which can be applied & simply washed off item #1821511 We also have a silver polish in a spray can that can just be wiped off item #1821512. If you have a lot of decoration that you want to clean, a soft horse hair brush can be used item #1821526. Please remember that the dark inside of your intricate designs is desirable. It shows off the pattern. If you remove it, it will come back naturally after a period of time
Once you have cleaned your silver we have silver protection strips to keep in your china cupboards to protect the silver that is exposed to the air item #1821515.
We also have Cloth Protective Coverings in which to store them.
https://www.silverqueen.com/items/chinakeepers
How do I care for Silver Plate?

Most of the time you will want to use a gentle rub or silver polish to keep your silver plate shiny. For a lightly tarnished piece we recommend a Hagerty's Silver Dusting Cloth item # 1821509. For something darker we recommend using Hagerty's Silversmith's Polish item #1821510. We don't advise using silver dips as they are diluted acid and have a tendency of taking off a bit of the silver along with the tarnish. Only use dips on items that you don't plan to keep for very long - see item #13485513
https://www.silverqueen.com/items/Polishing-Products