1-21-16 Our 2015 Ornaments sold pretty well, but there are a few leftovers and now priced at 35-50% off!
https://www.silverqueen.com/items/Close-Out-Christmas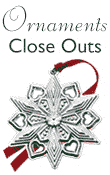 6-24-14 We just updated The Story about our company:
https://www.silverqueen.com/Info/About-The-Silver-Queen-Our-Story

3-28-14 We just re-modeled our sterling serving pieces store:


https://www.silverqueen.com/store/Sterling-Servers-Store



3-27-14 Please Join us on April 7th and April 8th for our "Art and Antiques Buying Event."
Our expert from New York will be helping us purchase these following items:
2-11-14 We're on Facebook!
https://www.facebook.com/TheSilverQueenInc

We probably post more on our face book page than on our blog, because it's just so easy to use. So.... please join our Facebook page and start getting more regular updates on our sales and events. Thanks, Greg
2-3-14 Valentine's Day Gifts Store Now Open! We have some great crystal heart paperweights, strands of pearls, cute gifty items and much more!
https://silverqueen.com/items/Valentines-Day-Gifts
5-9-13 We just launched our New Buccellati Sterling Store!
https://www.silverqueen.com/store/Buccellati-Sterling-Silver

4-1-13 We just launched our Antique Silver Store!
https://www.silverqueen.com/store/Antique-Vintage-Sterling-Silver
We purchased two $30,000 collections of estate sterling flatware and so we finally decided this was a good time to launch our new antiques section on our web site:

10-24-12 Proud to announce that we have re-launched our sterling flatware and gifts store. We've rebuilt it from the ground up and it is now much easier to navigate and has much more relevant content. https://www.silverqueen.com/store/Sterling-Silver-Flatware-and-Gifts-Store


10-20-12 The ad I designed for "Southern Living" magazine turned out beautifully. We've already had several calls and internet orders. Check it out:

https://www.silverqueen.com/Info/As%20Seen%20In%20Southern%20Living%20October%202012
10-9-12 Our storewide Annual Garage Sale is coming up on Friday, October 19th and Saturday, October 20th. Please come visit us and find some extraordinary bargains on jewelry, silver plate, odd ball items, and much more. 10-20-12 update: The sale was a resounding success!! Thanks to all of you who came out to visit us this weekend.
10-6-12 We just posted on the web site a fabulous new line of gem encrusted frames, napkin rings, and sea shells. I met the two designers in person in Atlanta back in July of 2012 and they impressed me as very inspirational and exciting designers - two great guys also!
https://www.silverqueen.com/items/Thorson-Hosier-Bejeweled-frames-and-gifts